Some of the great people we've met along the way:
"On August 7, 2013 my wife and I went to Gary Danko, our favorite restaurant. We took two bottles of Napa Valley Cabernet Sauvignon, one was a 2010 Diamond Mountain Haber Cabernet Sauvignon. We found the Haber wine stood up beautifully to the excellent food. After finishing the Haber we opened another "more expensive" Napa Valley Cabernet Sauvignon. We felt the Haber wine was more full bodied and flavorful." - Dick and Susan G.
"Just returned from a cruise to Alaska. . . The weather was fabulous, in the mid to high seventies, the glaciers were awe inspiring and the seaside towns we stopped in were very quaint, inviting and friendly. 3 of my brothers, their wives and my mother also cruised with us. I brought 6 wines with me for them to sample, including Phelp's Insignia, Anderson's Conn Valley Reserve and the mighty 2008 Haber Diamond Mountain. The Haber DM was THE HIT of the cruise, smooth and delicious! (as anticipated)." -Jerry and Cindy in Nevada
"Holiday blessings to you and Sue-Marie. By the way, to date, your Howell Mountain is still one of the top 4 wines I have ever tasted at any price. We just love it." - Brent in Texas
Charles Yi and Lenore Jiao of N16 Cellar visited us this summer - Charles even helped us out in the vineyard!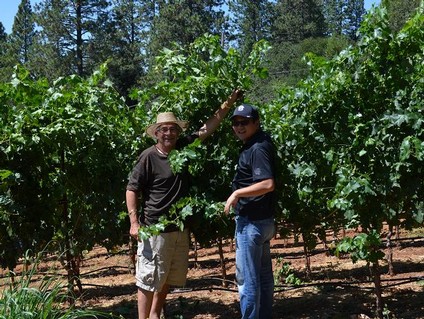 "Sue-Marie, we had a great time yesterday at your wine class session. It was
very informative and the class format left it open for great exchanges
between the participants and you. It also was a much added benefit to have
Ron present to share his experiences with the group as well. Thank you
both!!"

Albert & Dolores Tirado