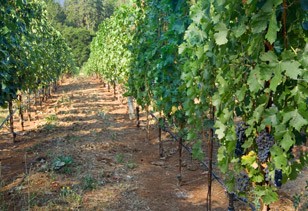 The Howell Mountain Estate Vineyard
Rising east of St. Helena, Howell Mountain is Napa Valley's first recognized sub-appellation. Renowned for Cabernet Sauvignon, its vineyards range from 1400 to 2200 feet in altitude. The rocky soils consist of red volcanic ash, key in defining the unique Howell Mountain wines. Days are a bit cooler than on the valley below, but because the vineyards sit above the fog that often blankets the valley floor, they enjoy long, mild growing days with slightly warmer nights. Our vineyard sits between 1650 and 1550 feet (top to bottom) on a West-facing slope with a view across the valley to both Spring and Diamond Mountains.
May 2013 update: The vineyard got a healthy dose of fertilizer this month and the bunches are forming. You can see the vine growth change daily as we await the cluster set.
Photogallery rendered here.


In late 2005, we planted our first block of Cabernet Sauvignon, one acre split between clones 4 and 7 on rootstock 110R. In 2006, we planted our second acre block also to clones 4 and 7. Finally, we added a ½ acre of clone 15 Cabernet Sauvignon in 2007. Our vineyard is tightly-spaced, with 3 feet between vines and 5 feet between rows, which requires the vineyard to be maintained entirely by hand. The vines are "cordoned" trained, pruned back to two short canes per vine, and loosely vertical shoot positioned.
Mountainside farming is always challenging. High wind, spring and fall frosts, and hail are all occasional risks. Thin, low-nutrient soils, rapid drainage, and steep slopes all demand extra attention. The elements of sun, temperature and good (that is, bad!!!) soil provides the perfect environment and help give our wine the character, richness and depth for which the wines of Howell Mountain are known.