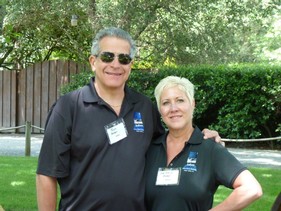 Welcome to Haber Family Vineyards
We founded Haber Family Vineyards, in 2004, with the dream of producing small lots of superior quality Napa Valley Mountain Cabernet Sauvignon.
Many visits to Napa Valley, enjoying our passion in wine, while still working full-time in the family's New York-based glass and glazing business, led to the decision to look for land in Napa Valley to start Haber Family Vineyards.
We were extremely lucky to find a great site for Haber Family Vineyards on Howell Mountain. Howell Mountain Cabernets have long been recognized as some of the finest Mountain Cabernets in the Napa Valley. Mountain Cabernets are sought out for their depth of character, richness and maturation that are expressive of the varietal. We purchased the 5.5 acre site and immediately set out to create the best team to develop the vineyard. In 2005, while our Howell Mountain vineyard was being developed, we decided to search for fruit from another one of Napa Valley's top mountain AVA's. We have sourced fruit from proven vineyards on Diamond Mountain.
With wine from two mountain sources forming the foundation of Haber Family Vineyards, our dream has been fulfilled. We released our first Diamond Mountain District Cabernet in 2006, which continues to sell out year after year, and we added a Sonoma Coast Chardonnay to our portfolio last year to rave reviews.
Designing Our Bottle and Logo
For us, the bottle is not just a holder of the wine inside, but also an expression of our background and passion for glass design. We wanted to use the ability of the glass itself to add texture and personality. The use of a screen printed bottle rather than a paper label was essential to incorporate the family's association with glass into the final design. This was especially important to us as our family business is W & W Glass, LLC, a leading, national, 70 year-old glass and glazing company. The use of glass in high-end architectural projects is a mainstay of our work and close to our hearts and the bottle needed to follow suit.
Our logo design ties in our history with glass and the beauty of the mountains that are to the east and west of the valley floor. The view looks through a window of glass onto the beautiful mountains that surround the Napa Valley and poke up through the fog that is known to blanket the valley floor. The night sky, in the clear air high up on the mountain, has a unique shade of blue that we tried to faithfully represent. The night blue forms the background for the amazing light that comes from the voluminous stars as well as the very bright moon. We hope the design gives you the feeling of serenity that we feel when we are here.
Sue-Marie and Ron Haber
Mailing List
Join our mailing list. Keep updated on new releases, upcoming events and news from the vineyard.