Fall 2013
Our harvest this year was spectacular - yields were up and the quality of the grapes were outstanding.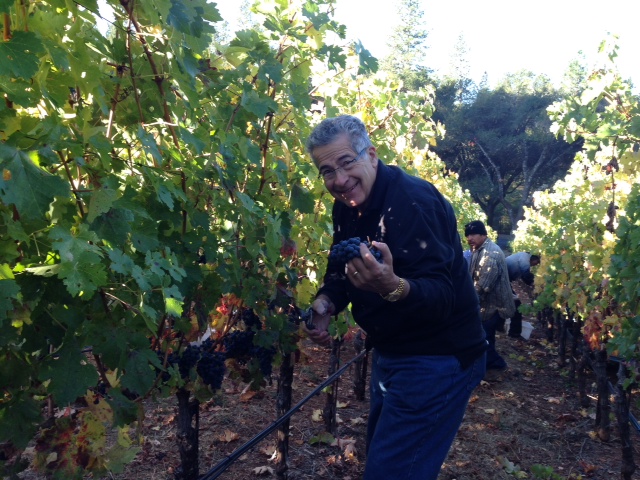 Spring 2013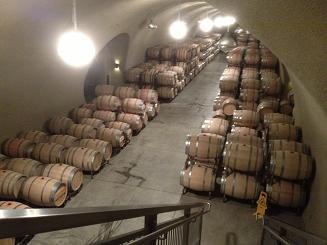 The big news is our move to Arkenstone, a newly-built private custom-crush facility on Howell Mountain with cutting edge equipment and technology. We will now be totally in the cave from crush to bottling! The facility will provide Winemaker Tim Milos the latest and greatest vinification tools to add to the quality of both our Diamond Mountain District and Howell Mountain wines.
Harvest 2012
"Harvest is drawing to a close, with beautifully sweet Cabernet Sauvignon fermenting on its skins in the cellar. The ferments are nearly black in color with the berries so ripe they almost look oily. The aromas of blackberry, raspberry and cherry fill the air, as the sweet dark juice is transformed into inky wine. After a few years of extreme weather, 2012 moved through the seasons at the balance point of the long term averages. The winter had adequate but not excessive rainfall and any real rains ended in April. The Spring was mild, with a bit of heat in May, but dropping back to near normal temperatures for June, July, August and September. The only real heat wave was in the first week of October, with three consecutive days above 95 degrees, yet even with the heat, the nights cooled and allowed the vines to recover with but minimal damage. The mild season let the grapes reach high sugar levels before the skins and seeds were ripe, and with the heat the fruit was over 25 brix on the first of October. We let the fruit hang another 3 weeks, picking out before the rains, having waited for the flavors, tannins and textures of the fruit develop fully. Truly a great year in Napa Valley!" - Tim Milos, Winemaker
Wine pairings
We recently had the pleasure of working with Sonoma County Poultry, Liberty Ducks on a pairing with some duck recipes and our Cabernet. Check out the video!
We have had some great reviews and customer comments pouring in about our wines as friends are popping the corks for special occasions and family get-togethers.
96 POINTS - I tasted the 2006 Haber Family Diamond Mtn. along side the 2007 over dinner . . . Compared to the 2007, the 2006 has more of a black cherry nose that is more complex. It still has lots of bold tannins that indicate several more years of life - in fact I don't think this wine has hit its peak yet. The 2006 will benefit from decanting - we didn't that night, but the wine definitely opened up in the glass over the hour that we enjoyed it. I had the wine with lamb chops and they made a great combination." - Napacablover on CellarTracker
95 POINTS - "Unlike the muscular 2006, which still hasn't reached its peak yet, the 2007 is a pop and pour delight that's ready to drink as soon as it hits the glass. This wine has a big red cherry nose and a fruit-forward taste that's soft on the palate and very drinkable with or without food. I bought a case of the 2007 last year and this botlle made me remember why I did. After tasting the two wines together, I'm going to keep my 2006's in my cellar for a while and enjoy the rest of my 2007's over the next year or two." - Napacablover on CellarTracker
---
"Met you the other week at Carlos Russo, tasted your wine and chatted about Howell Mountain. I already drank two of the 6 bottles I purchased, shared them with good friends and they were a big hit. The Haber had some deep competition that night but yours stood strong. Keep up the good work . . ." David C.
"I just wanted to take a moment and tell you how much I enjoyed the bottle of 2007 Howell Mountain Haber Family wine tonight. I was in Jacksonville Florida on business with my boss who he very much into wines. They are wine club members at Vineyard 29, Dana, Parallel, Seavey, Flannigan, Matisee, Gemstone and many more. I wanted to share with him one of the truly fine wines I now call one of my favorites. I took this bottle with me to a place called The Wine Cellar in Jacksonville and really enjoyed every drop. His reaction was "Wow" very smooth not over the top.
I love being able to share great wines with other people who I know will appreciate them and I look forward to sharing the Haber Family wine with others. I am planning a long weekend in Savannah Georgia over St. Patrick's Day weekend and even though most people will be drinking green beer I might just have to bring some Haber Family Wine." - Mike
---
"For my birthday in Jan, a good friend & neighbor has been cooking a birthday dinner for me for the last several years and we bring the wine. This year I brought a bottle of Haber Howell Mountain. Paired w/a charcoal grilled medium rare Tenderloin filet, everyone agreed the wine was absolutely magnificent. Thank you (and Sue-Marie) for making my birthday dinner extra special."
Harvest 2011
With the wines steeping on their skins, we have a moment to reflect on the vintage just ended. The 2011 harvest was an epic adventure, full of risk and challenges. A long cool season, with unusually high Spring and Summer rainfall gave luxuriant canopies with a modest crop. Thankfully our well-drained mountain soils shed their excess water, allowing normal berry development and modest berry size, although every stage was delayed by a week or more. While botrytis ravaged many valley floor vineyards late in the season, our drier soils and lower humidities on the mountain let us escape the brunt of the assault, and careful selection at harvest eliminated any infected fruit. Sugars remained modest as flavor and tannin developed in September and October, in part due to moderate weather and in part to unusually mild humidities. September and October are typically very dry and low humidity contributes to the typical concentration we see in Napa Valley grapes. After an early rain in October, the weather did finally turn dry, humidity dropped to 30%, and sugars rapidly rose to typical mountain vineyard levels. We waited (and waited) through risk of rain and frost until late in October to begin picking, and harvested on 3 days, the 19th, then November 1st and 3rd. The wines, still macerating on skins, are deep, rich and round, the tannin structure slowly refining as it sits, and is already showing ripe bramble, cherry and faint hints of cured tobacco. It was a year where patience and calculated risks were amply rewarded.

-Timothy Milos, Winemaker
Customer note from David G. in Florida
I had the pleasure of meeting Monica Elliott from Fleur-de-lis at the Seeing Red wine festival in Seaside FL a couple of weeks ago. She introduce me to your wine and I was instantly blown away by the extraordinary flavors and taste. I purchased the few bottles she had immediately. If is a pleasure to find small family run wineries like this that put out such an incredible product. I hope to visit and meet you the next time my wife and I come out to Napa Valley.
Best regards,
David G.
Customer Note from Jason in Westchester, NY:
Ron,
I want you to know that I am not a buyer of "expensive" wines… I love wine, but I can't afford to spend $90 or more on wine to drink during a casual dinner with family or friends. That said, for occasions that warrant a "special" bottle of wine, I proudly serve Haber's Diamond Mountain Cab. It's a marvelous drinking experience, that I wish I could enjoy everyday… but the infrequency of the occasion is what makes it such a joy. The rich silky smoothness of your wine puts it simply in a class by itself, and those to which I serve it always rave.
Haber is my one-and-only "special occasion" wine. Thank you for making it.
Jason C. Schiciano, Westchester, NY
http://www.facebook.com/note.php?note_id=211130955602882
Approaching sell-out on our '07 Howell Mountain and '06 Diamond Mountain Cabernet Sauvignon at the house. Don't miss out!!
Don't believe the pundits knocking the 2010 vintage.
Wine Library TV's Gary Vaynerchuk rates 2006 Haber Family Vineyards Diamond Mountain District Cabernet Sauvignon a 93+. Video review and info here:
http://winelibrary.com/wines/49355-2006+Haber+Family+Cabernet+Sauvignon+750ML
"The Wine Guy" Nelson Tucker rates 2006 Haber Family Vineyards Diamond Mountain District Cabernet Sauvignon a 94
http://www.wineguyreviews.com/
Taigen Shops features our 2006 Haber Family Vineyards Diamond Mountain District Cabernet Sauvignon
"...Well, serious it is with deep chewy layers of mocha, black cherry, cracked black pepper and black tea aromatics that carry over detail for detail to the palate. The wine is a keeper and should be decanted at least 2 hours before serving with your next prime rib or porterhouse."
http://www.taigan.com/shops/wineforall/items/9410
From Wine Spectator Forums post by Eric Reichenbach, Wine Director at Twin Farms in VT:
Back in Decemeber 2009, a blind tasting was held here at Twin Farms in which '05 Harlan and '05 QC were the main focus, but an unknown ('06 Haber Family Vineyards CS) was secretly added into the mix.
Each taster had two glasses PER wine - one glass with the wine decanted for 7 hours and the other glass with the wine decanted for ~45 minutes.
All three wines showed really well, but at the end of the tasting, it was unanimous that the "unknown" was the favorite. (Harlan was second and QC third.) I must admit that the results were shocking. I have been fortunate to have had Harlan and QC on numerous occasions. Therefore, figuring out which glasses were the QC was easy. Now, what turned out to be the Haber, I had pegged for the Harlan. The Haber was voluptuous, a descriptor that I typically use when tasting Harlan! In disbelieve of the results, I had another bottle of Haber sent up that week. I put the wine through the same decant (half at 7 hours and half at 45 minutes). My notes from this second tasting were consistant with the first. All I could say was, WOW!!! This is a like a 75-1 shot winning the Derby.
Excited to introduce this wine known to our guests, I have invited Sue-Marie and Ron Haber to show their wine here at Twin Farms. The event will be held on Saturday, August 7, 2010.
There will be a pre-dinner tasting of their 2007 Diamond Mountain Cabernet Sauvignon. Sue-Marie and Ron will be on hand to talk about their new project ('06 being their first release). At dinner we will be pouring their 2006.
Haber Family Vineyards in located up on Howell Mountain. While their estate vineyard was maturing, grapes for the 2006 and 2007 were sourced from the Diamond Mountain district. Production is small, ~350 cases. The Habers hit the bulls-eye with winemaker Tim Milos! Not only is Tim a really nice individual, but he can make one hell of a wine!
We all know the pricing of Harlan and QC. Please join us and discover the new cult in town! And unlike many of the "California Cult Cabernet Sauvignon", the Haber Family Vineyards CS is in the <$100 range.
An overnight stay at Twin Farms (an all inclusive resort) is required to attend the wine dinner. Please feel free to visit the website - www.twinfarms.com or email me - wine@twinfarms.com for more information.
To learn more about Haber Family Vineyards, please visit www.haberfamilyvineyards.com
Drink in good health!
Cheers!
Our First Release Is Coming Together. Don't Wait to Pop Open a Bottle.
For those who have our first release 2006 Haber Family Vineyards Diamond Mountain District Cabernet Sauvignon aging in your cellars, go ahead and pop one. It's coming together in bottle so don't wait to try one, we'd love to hear your feedback.
Note from Jeanne in NY
Just received a note from From Jeanne in NY that made our day:
"We polished off the bottle of 2006 Haber Family 2006 Diamond
Mountain Cabernet. It is fantastic. What is special about it is it is not
only good shortly after decanting but only gets better as it opens up. Keep up
...the good work! A sure winner!!!!"
Wine Blog Tasting Feature
"The lengthy finish and depth of flavor in the palate are both noteworthy. When you take into account that this wine is the first release it's exciting to consider what Haber Family Vineyards will unleash going forward. It's also clear that Tim Milos is amongst the folks who have the ability to get at the core of mountain fruit and let it show off its purity and power. This is an excellent wine, well worth its price tag." ~Gabe Sasso, Gabe's View Blog http://bit.ly/bj58dh
Great note we received from Layne Albert of New York, NY:
"Hi Ron: We had a BYOB dinner at Cookshop today on the west side. I brought a very young 06 Haber Family Cab.The dinner was bring your favorite Cal Cab. Hands down – the Haber Family Diamond Mtn was the winner. We had a 99 Lail, an 03 Laird, an 04 Sequoia Grove Reserve, an 05 Mercury Head, an 06 Rivers Marie, an 05 Scarecrow and an 05 Harlan. AGAIN, Haber Family was the winner. Thanks Layne"
New wine blogger friends taste 2006 Haber Family Vineyards Diamond Mountain District Cabernet Sauvignon
We recently hosted a tasting of our first release at our home on Howell Mountain during crush. Our wine blogger guests have written about their time with us. We're grateful for their insights and their time that day and look forward to having them back when we release our 2007 Haber Family Vineyards Howell Mountain Estate Cabernet Sauvignon.
Enjoy these excerpts from their blog posts and click the links to read their full posts:
"While the fruit grew, and the estate developed, the 2006 Diamond Mountain District Cabernet Sauvignon was released earlier this year. This bottle was decanted the night before our visit, and it was simply stunning. Those of you who know me well know that I don't like the typical overblown overdone overextracted Napa Cab, and this wine was the elegant, silky antithesis of that. I tasted chocolate, smoke and salami in the wine. Or was that the nibbles I was chowing down? Sue Marie put on an amazing spread for us. The wine continued with pepper and subtle blackberry, with juicy plum notes. As the wine opened up further in the glass, and as we ate lunch and drank more, the rich mocha flavors came out to play and evergreen notes teased me. At one point I had an overwhelming aroma of Earl Grey tea, which was followed by fig, black cherry and root beer. I really enjoyed this wine, and for $80 it is worth it. I would certainly buy another bottle to hold for a special (or not so special) wine drinking occasion.."
Thea Dwelle ~Luscious Lushes http://bit.ly/4qRIHu
"The bottle we tasted was decanted the evening before and I noticed many changes in the wine as we sampled it. Ron is a fan of mountain fruit and his wine reflects that bold flavor. I detected deep berry fruit but also notes of chocolate and even mint. Sue-Marie laid out a lovely lunch including some roasted figs, which she at first thought too ripe and sweet to serve, but I thought they were just right with the wine."
Marcy Gordon ~ Come for the Wine http://bit.ly/4890Wt
"A group of us bloggers sat down with Ron and Sue-Marie at their Howell Mountain summer home to try their first release and enjoy some lunch. The wine tried was the 2006 Diamond Mountain Cabernet Sauvignon. This wine shows how good mountain cabs can be. Inky and intense, it exhibited aromas of blackberry, cassis, chocolate, mint, and toasty oak. It showed that earthy, limestone character that seems to me to make Diamond Mountain cabs unique. Firm tannins and balance acidity round it out. Loooooonnggg finish. I expect that this wine will age quite well for years. In my humble opinion, the wine is well worth the price."
Michael Wangbickler~Caveman Wines http://bit.ly/2FV6Nb
Layne Albert of New York, NY writes again:
"Hi Ron. Tonight was hartwell reserve 06, hestan estate 06, jarvis 97 (yes, 97), insignia 03 ..... And best of show....Haber. Bring it on. Great night and great wine. All our friends take photos of your beautiful glass windows bottle. Take care, Layne"
"Where To Find Our Wine" Page
Look for our wine at these fine restaurants and retailers. Thank you! http://bit.ly/cJ260H
Recent Events
| | |
| --- | --- |
| | |
| Ron Haber at work in the vineyard | 2010 fruit on the vine |